Simulaids Sani-Child CPR Resuscitation Manikin
Specially designed for use in the training and practise of CPR on children, this Simulaids Sani-Child CPR Resuscitation Manikin is the ideal solution for CPR training. Providing hygienic and affordable CPR application and use for students and teachers alike, this Sani-Child Manikin can be used time and time again in the teaching of potentially life-saving techniques.
What's Included?
Who Can Use This Sani-Child Manikin?
Specially designed for the demonstration and practice of CPR on children, this Sani-Child Manikin from Simulaids can be used by anyone, student or teacher in the training of CPR. As such, this manikin is ideal for the following:
Medical students
Carers at creches and nurseries
First Aid staff at offices with creches
Key Features and Benefits
For the training of CPR on children
Uses a faces shield/lung system
Enables hygienic CPR demonstration and practise
Three anatomical reference points for user guidance
Realistic life-size child head and torso manikin
How Do I Use the Face Shield and Lung System?
To use the face shield/lung system and Sani-Child Manikin, please follow these simple steps below:
First, fold the open end of face shield bag
Tilt the head back and place the folded end in through the mouth
Next, with the baby's head tilted back, lay the lung flat against the chest and snap the overlay in place with the poppers
Ensure the face shield covers the baby's face from nose to chin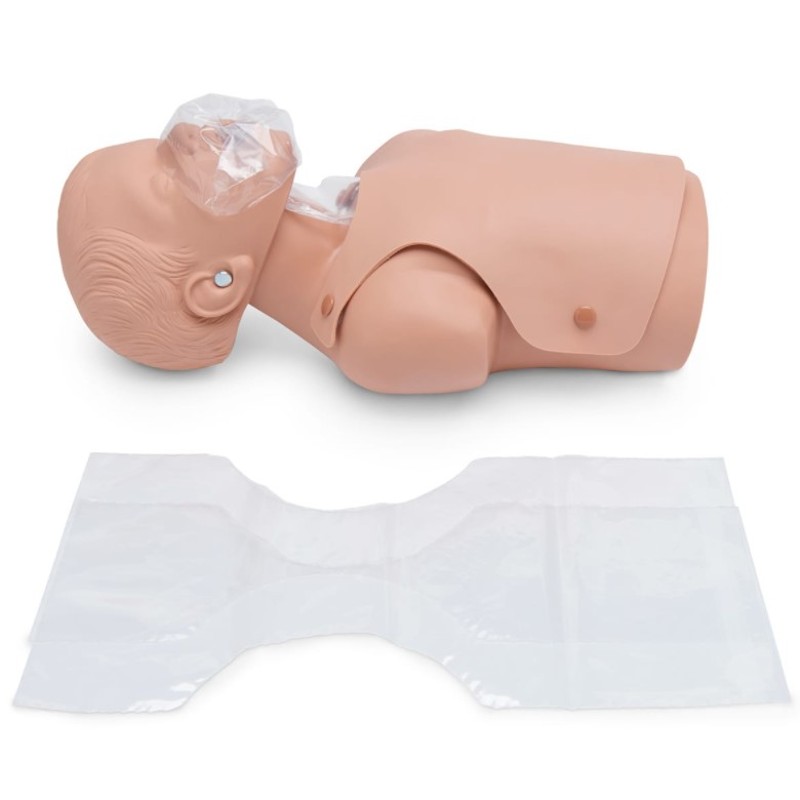 The Simulaids Sani-Child Resuscitation Manikin and Face Shield/Lung System
Anatomical Reference Points
This life-like child manikin has the following features and anatomical reference points for effective demonstration of hand placement for CPR techniques on children:
Moulded hair
Rib cage
Substernal notch
Sternum
Disposable and Hygienic Face Shields
This Sani-Child Manikin from Simulaids is designed for use with special face shield and lung systems that are disposable and sanitary for the safe and hygienic practice of CPR. These single use systems also help to save time after training, eliminating the need for cleaning or disinfecting the manikins between each use.
Where Can I Buy the Disposable Face Shields?
You can buy the Simulaids Sani-Child CPR Manikin Face Shield/Lung System (100 Pack) from our website.
How Long Will the Manikin Last?
Made with durability in mind, this Simulaids Sani-Child Manikin is made with high quality materials and comes with three-year warranty for your peace of mind.
How Big Is the Packaging Box?
The child manikin comes in a box that measures 40 x 20 x 20cm
The manikin weighs 2kg
Additional Downloads
For more information on how to use the Sani-Child CPR Resuscitation Manikin, please see the manual below: