Simulaids Sani CPR Resuscitation Manikins Family Pack
When it comes to CPR training, it is often more effective for students to have their own manikin to practice CPR than learning through teacher demonstration alone. That's why the Simulaids Sani CPR Resuscitation Manikins Family Pack is an ideal bundle solution for the training and learning of CPR techniques. The pack, featuring two adult manikins, one child and one baby, allows for a range of CPR applications for students in group contexts.
What's Included?
2 x Economy Sani-Adult Manikins
1 x Sani-Baby Manikin
1 x Sani-Child Manikin
1 x Box of 100 adult face shields/lung systems
1 x Box of 100 baby face shields/lung systems
1 x Box of 100 child face shields/lung systems
1 x Carry bag
Who Can Use This Simulaids Sani CPR Family Pack?
Specially designed for the demonstration and practice of CPR, this starter pack is ideal for anyone wanting to teach the complexities of CPR on young babies, children and adults. As such, this kit can be used by the following:
Medical students
Carers at creches and nurseries
Carers in care homes
First Aid staff at offices
Key Features and Benefits
For the training and practice of CPR
Life-like manikins for CPR application
Includes face shield/lung systems for hygienic training
Anatomical references for correct hand positioning
Cost-effective solution for the teaching of CPR
Anatomical Reference Points
These life-like manikins have the following features and anatomical reference points for effective demonstration of hand placement for CPR techniques:
Sani-Adult Manikins
Head tilt/chin lift feature to open the airway
Tough vinyl skin for extended service
Foam-filled torso for resistance to compression
Palpable landmarks to ensure proper hand placement
Observable chest rise to very ventilation
Sani-Baby Manikins
Realistic face
Moulded hair
Defined rib cage
Xiphoid process
Sani-Child Manikins
Moulded hair
Rib cage
Substernal notch
Sternum
Disposable and Hygienic Face Shields
The pack comes with 300 disposable and sanitary face shields so that each student can be assured of the manikin's cleanliness when they work with it. The face shield and lung systems throwaway design also makes for hassle-free training, eliminating the need for any cleaning or disinfecting of the manikin(s) after use.
How Do I Use the Face Shields/Lung System Bags?
The Sani CPR Resuscitation Manikins Family Pack features an easy-to-use system; simply fold the lung bag four times and slide it into the mouth and out from under the chin. The bag resides either under the overlay of the chest (for infant and child manikins) or behind the back (for adults).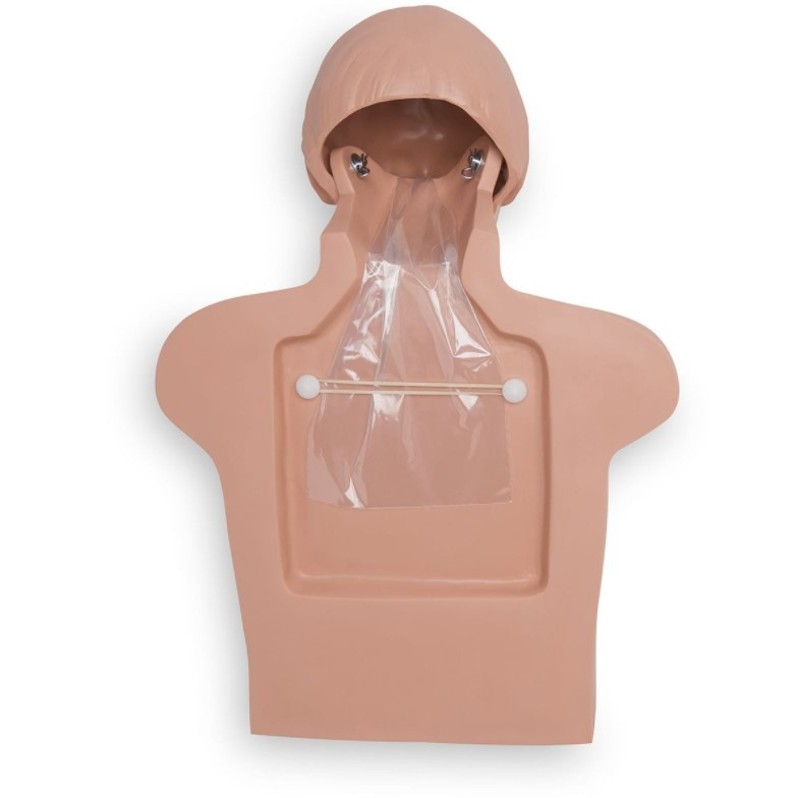 Can I Buy More Disposable Face Shields if I Run Out?
Yes, you can buy the Simulaids Sani-Adult CPR Manikin Face Shield/Lung System (100 Pack), Simulaids Sani-Baby CPR Manikin Face Shield/Lung System (100 Pack) and Simulaids Sani-Child CPR Manikin Face Shield/Lung System (100 Pack) from our website.
How Do I Clean the Manikins?
To clean each of these Sani Manikins, simply wipe the outer layer of the manikin using a mild soapy water.
How Long Will These Manikins Last?
Designed using high quality materials, this Simulaids Sani Manikin Pack is made with durability in mind. The pack also comes with three-year warranty for your peace of mind.
Are There Manuals for These Manikins?
Yes, for detailed guidance on how to assemble the Manikins and use the disposable face shields, please refer to the user instructions below.
Simulaids Sani Manikin User Instructions