Rudiger Super-Duper Life-Size Anatomical Skeleton Model
The Rudiger Super-Duper Life-Size Anatomical Skeleton Model helps bring learning to life with incredible detail and scientific accuracy. With six ligaments that mimic natural movement, a flexible spine and painted muscles, this model is a fully comprehensive teaching tool for medical students.
What's Included?
1 x Skeleton Model
1 x Display Stand
1 x Dust Cover
1 x Body Part Key
Who Can Use the Rudiger Life-Size Model Human Skeleton?
The Rudiger skeleton models are designed primarily to help teach the next generation of medical students with an accurate visual representation of a real human skeleton. However, it is also useful for teaching about or demonstrating an injury to patients during medical check-ups. The full list of applications includes:
Biology classes
Professional teaching
Personal studies
Patient education/demonstration
General education
Key Features and Benefits
Accurately detailed model skeleton cast directly from genuine human skeletons
Flexible spin for demonstrating the body's natural movement
Painted ligaments and muscles for educational and demonstrative purposes
Numbers that label the bones, muscles and more with key included
Constructed using durable plastic that won't deteriorate or break in normal use
Skull dissects into four parts with exceptional anatomic detail
Full set of removeable teeth (31 out of 32 are removable)
Supplied complete with a dust cover for easier storage
Incredibly Detailed
Cast from specially selected human skeletons, the Rudiger Models are exact replicas of the real thing. The painstaking detail that has gone in to making this model ensures the precision and accuracy of student education and demonstrations given to patients.
Mimics the Body's Movement
The Rudiger Super Duper Skeleton Model is designed to accurately mimic the natural movements of the body, with a flexible spine and functional ligaments. This has the dual purpose of teaching students about how the body moves and functions, as well as demonstrating to patients how their injury may have occurred.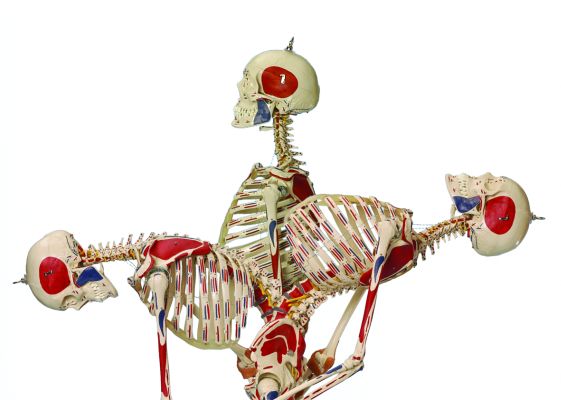 Highlights Key Areas
The key parts of the body are highlighted in red and blue on the left side of the skeleton, with red paint for the muscles origins and blue paint for the insertions. Each body part is numbered, and the provided key helps students identify where each of these body parts are located.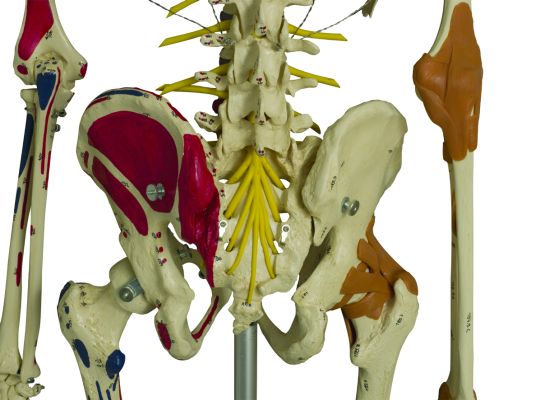 Easy to Store and Transport
Supplied with a sturdy display stand and dust cover, the model is easy to move around or pack away whenever needed. This is especially useful when the model needs to be relocated to another room, as may often be the case in a school, university or hospital.
Removable Parts
Many key sections of the model skeleton can be detached for closer inspection and demonstration, including the arms, legs, teeth and a skull that dissects into four parts. Additionally, the mandible features a small flap that opens to reveal the nerve canal, bone structure, roots of the teeth and an impacted molar.

Skull dissects with intricate details inside
Technical Specifications
Height (including stand): 180cm (6ft)
Weight: 11kg (24lb)
Width: 40cm (16″)
Depth: 25cm (10″)
Stand Diameter: 60cm (24″)