Rudiger Life-Size Flexible Anatomical Skeleton Model
Cast from a real human skeleton, the Rudiger Life-Size Flexible Anatomical Skeleton Model offers a high level of detail to ensure scientific accuracy for teaching and demonstration. This model features a flexible spine and manipulatable thorax which enables demonstrations of movement and breathing techniques that may be useful for chiropractors and physiotherapists.
What's Included?
1 x Skeleton Model
1 x Display Stand
Who Can Use the Rudiger Anatomical Model Skeleton?
This accurately detailed anatomical skeleton model is ideal for educational or demonstrative purposes in schools, universities and medical professions. Some of the applications for this model may include (but are not limited too):
Biology classes
Professional teaching
Personal studies
Patient education/demonstration
Chiropractic practice
Key Features and Benefits
Incredible anatomic detail for precise teaching and demonstration
Flexible spine and thorax allows demonstration of movement and breathing
Display stand with five casters for easy transportation
Can be removed from the stand and laid down for demonstration purposes
Special U-bracket joints mimic the natural movements of the body
Constructed using hard-wearing material which is highly resistant to damage
Skull dissects into four parts with exceptional anatomic detail
Full set of removable teeth (31 out of 32 are removable)
Includes hyoid bone
Brings Learning to Life
One way to make sure students are always engaged is to bring learning to life through practical demonstrations. The Rudiger Skeleton Model gives students a break from their textbooks to get first hand experience themselves, meaning more engagement and improved learning.
Great for Physiotherapy Demos
This Rudiger Model features a fully flexible spine, u-brackets that mimic joint movement, and a thorax designed to simulate breathing techniques. These additions are perfect for chiropractors, physiotherapist or other medical practitioners who need to demonstrate how the spine works to their patients.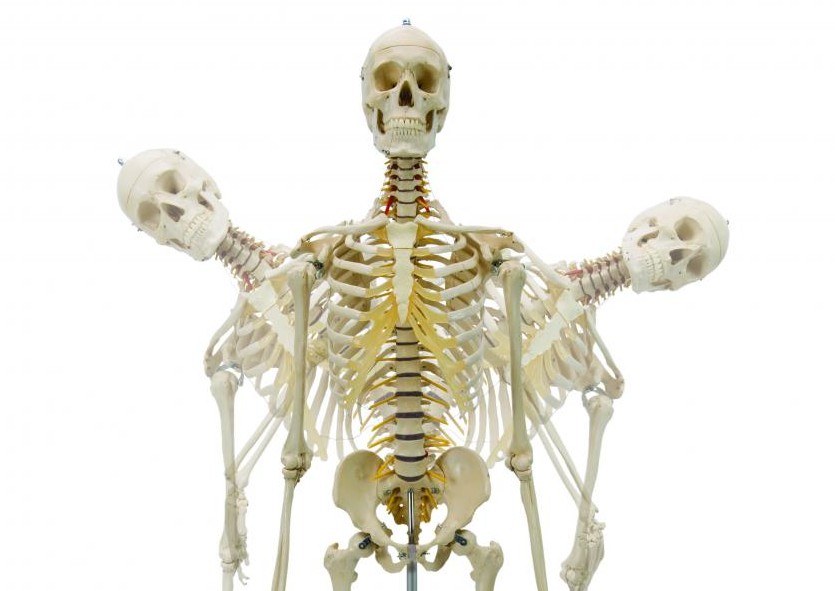 Exceptional Detail
Cast directly from specially picked real-life skeletons, the Rudiger Skeleton Model offer a painstaking level of detail to give students the best education possible. Bone indentations are detailed with incredible accuracy to ensure medical students benefit from a true-to-life example of human anatomy.
Long-Lasting and Durable
The highly durable construction of the Rudiger Model Skeleton makes it a quality investment that will serve its purpose for a very long time. The hard-wearing plastic does not deteriorate over time, and is resilient to damage during normal use.
Easy to Store and Transport
Attached to a stand with five rotating casters, the skeleton model is easy to move around from classroom to classroom as needed. Sections of the skeleton such as the limbs and skull can also be removed for easy storage when the model is not needed, or needs to be transported.
Removable Parts
Many key sections of the model skeleton can be detached for closer inspection and demonstration, including the arms, legs, teeth and a skull that dissects into four parts. Additionally, the mandible features a small flap that can be opened to reveal the nerve canal, bone structure, roots of the teeth and an impacted molar.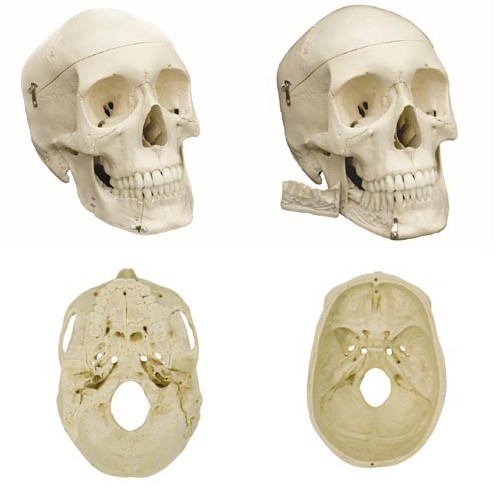 Skull dissects into four parts with intricate details inside
Technical Specifications
Height (including stand): 180cm (6ft)
Weight: 11kg (24lb)
Width: 40cm (16″)
Depth: 25cm (10″)
Stand Diameter: 60cm (24″)