Rudiger Heavy-Duty Life-Size Anatomical Skeleton Model
The Rudiger Heavy-Duty Life-Size Anatomical Model carries a 15 year warranty as prove of its durability and robustness. With incredible anatomic detail, a skull that dissects into four parts and joints that move realistically, this model the perfect demonstration tool for teachers and physicians alike.
What's Included?
1 x Skeleton Model
1 x Display Stand
Who Can Use the Rudiger Durable Model Skeleton?
This accurately detailed model of the human skeleton is ideal for educational or demonstrative purposes in schools, universities and medical professions. Some of the applications for this model may include (but are not limited too):
Biology classes
Professional teaching
Personal studies
Patient education/demonstration
General education
Key Features and Benefits
Accurately designed skeletal model represents the minute details of the bone
Display stand with five rotating casters for easy transportation
Easy to remove from the stand and laid down for demonstration purposes
Heavy-duty materials and strong double-connection increase wear and durability
Special U-brackets designed to mimic the natural movement of the joints
Skull dissects into four parts with exceptional anatomic detailing
Full set of removable teeth (31 out of 32 removable)
Comes with a 15 year manufacturer warranty as assurance of quality
Includes the hyoid bone
Incredibly Detailed
Every inch of the Rudiger Human Model Skeleton has been designed with painstaking detail to ensure precision when used for educational or demonstrative purposes. Cast directly from specially selected human skeletons, this model provides the perfect reconstruction of human anatomy to help deepen student understanding.
Mimics the Bodies Movement
Special U-brackets located on the joints allow the model to mimic the bodies natural movement without causing any damage. This is especially useful for demonstrating a particular injury, condition or rehabilitative exercise to a patient during a doctors appointment or physiotherapy session.
Heavy-Duty Durability
Made with hard-wearing plastic and reinforced with double connections, this skeleton model is a strong long-term investment that's built to teach for generations. Every rib is fixed at two points, the removable hips are fixed at four, and the ribcage is held in position by six cables as opposed to the usual four.

Easy to Store and Transport
Situated on a sturdy steel base with five rotating wheels, the skeleton model is easy to transport between classrooms whenever necessary. Sections of the model such as the limbs and skull can be removed, which makes compacting, storing and transporting it out the way much easier when no longer in use.
Removable Parts
Parts of the skeleton model including the arms, legs, teeth and skull are removable for individual inspection and demonstration when needed. Additionally, the skull dissects into a further four sections with intricate details inside, and a flap on the mandible opens to reveal the nerve canal, bone structure and roots of the teeth.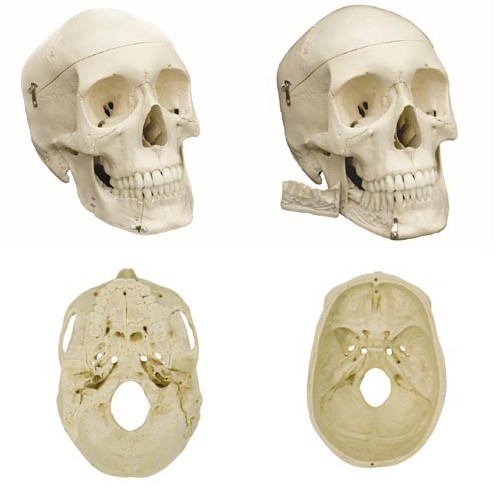 Technical Specifications
Height (including stand): 180cm (6ft)
Weight: 11kg (24lb)
Width: 40cm (16″)
Depth: 25cm (10″)
Stand Diameter: 60cm (24″)