Rudiger Anatomical Skull Model
The Rudiger Anatomical Skull Model is cast from a real human skeleton to guarantee scientific accuracy for studies and demonstrations. This model showcases the finest details of the bones surface, and can be dissected into four parts for closer inspection of the inside.
What's Included?
Who Can Use the Rudiger Human Skull Model?
Incredibly detailed and scientifically accurate, the Rudiger Human Skull Model is perfect for demonstrative purposes for students and patients. Able to dissect into multiple parts for closer inspection, this educational tool is suitable for the following:
Biology classes
Medical training
Personal studies
Patient education/demonstration
General education
Key Features and Benefits
Incredibly detailed skull model cast from a real human skeleton
Casted from a human skeleton chosen by experts
Full set of 32 teeth with 31 of them being removable
Dissects into four sections for closer internal inspection
Mandible flap exposes roots of teeth, nerve canal and bone structure
Made using durable material for long-lasting use
Also suitable as an aesthetic model for painters and art classrooms
Highly Detailed
Cast from a real human skeleton hand-picked by scientific experts, the Rudiger Skull Model represents an incredibly accurate reconstruction of a human skull. This attention to detail helps students and patients develop a much greater understanding of human anatomy for their educational or physical benefit.
Dissects for Closer Inspection
The Rudiger Skull Model dissects into four parts that allows students to explore the inner workings of the human skull. Additionally, a small flap located on the mandible opens to reveal the nerve canal, bone structure, and roots of the teeth for closer inspection to deepen student understanding of the body and how it works.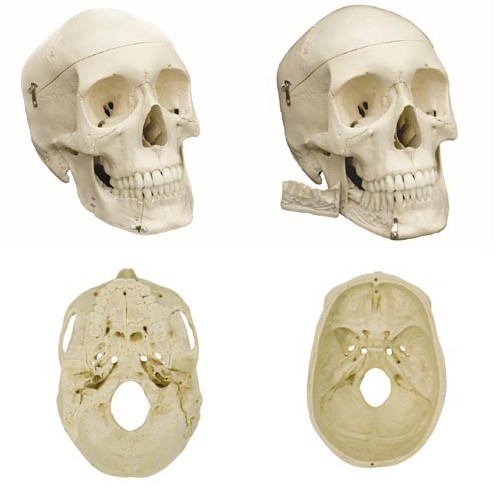 Long Lasting and Durable
Manufactured using hard-wearing plastic, the Human Skull Model is built to last, so that it can continue helping students learn about anatomy for years to come. Immune to deterioration and unbreakable during normal use, the skull model is guaranteed to teach many future generations of medical professionals.
Removable Teeth
Thirty-one out of the full set of 32 lifelike human teeth can be removed from the Rudiger Skull Model. This enables closer inspection of each individual tooth, as well as their roots in the mandible and maxillae that they are extracted from. The only tooth that cannot be removed is an impacted wisdom tooth that demonstrates a molar that hasn't emerged normally.
Technical Specifications
Dimensions (HxWxD): 24 x 14  x 17cm
Weight: 0.8kg