Leukoplast Elastic Professional Plasters Assorted Sizes (Pack of 40)
The robust, remarkably stretchy Leukoplast Elastic Professional Plasters Assorted Sizes (Pack of 40) offer exceptional protection for cuts, grazes, burns and lacerations while they're healing. The highly elastic nature of these plasters and the wide variety of different sizes and shapes makes this pack a great choice for any first aid kit.
Please Note: This products' packaging has recently changed and you may receive the old packaging during the transition. The product will offer the same high-quality performance regardless of packaging.
What's Included?
With your purchase you will receive:
40 x Leukoplast Elastic Plasters of Assorted Sizes
What Are the Leukoplast Elastic Plasters For?
Leukoplast's strong adhesive makes sure your plaster remains in place offering long lasting protection and a secure fit. Supplied in a pack of 40, Leukoplast Elastic Professional Plasters offer to provide quality and long-lasting dressings for cuts, grazes, lacerations, and abrasions.
Key Features of Leukoplast Elastic Professional Plasters
Helps reduce skin maceration – assisting with the healing process
Robust and highly durable for long lasting protection
Highly flexible for the active individual
Ideal for fingers, joints and other highly flexible areas
Secure hold for the active individual
Strong adhesive offers secure and comfortable fit
Low adherent pad increases the comfort of removal
Permeable to air and water vapour for added breathability
Water repellent design allows for use in all settings
Highly absorbent wound pad meaning cuts and wounds are remain dry and protected
Perfect for the Active Individual
The tough and durable nature of Leukoplast Elastic Plasters means they are ideal for the active individual. The water repellent design utilises strong adhesive to retain a secure attachment and a comfortable fit. These plasters can take the strain of sports, physically demanding jobs, challenging weather and an active lifestyle.
What Can These Leukoplast Plasters Do for You?
Help control bleeding for minor wounds by stemming blood flow and assisting with the natural clotting process
Reduce the chance of infections by creating a barrier to bacteria
Injury protection from scrapes or knocks that could reopen the wound
Control the water levels around the wound, keeping it in the ideal conditions to heal
Stop you from accidentally scratching the wound in your sleep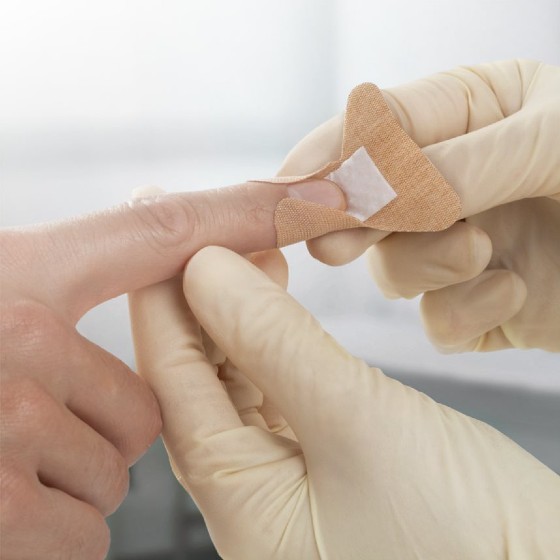 Highly Effective in All Situations
The robust and highly breathable Leukoplast Elastic Plasters offer resilience and adaptability in a variety of functions. Durable in a range of settings from the home, to work, to the garden, Leukoplast Elastic Plasters are a useful addition to any first aid set.