Unigloves Select Black Nitrile Tattoo Artists Gloves GT003
For the professional tattoo artist, safety and sensitivity of touch are paramount, which is why these Unigloves Select Black Nitrile Tattoo Artists Gloves GT003 have been crafted to exacting standards to protect you from blood-borne pathogens while giving you the tactile sensation necessary to do your best work.. Providing fantastic sensitivity, dexterity and grip, these stylish matte black gloves leave you free to reach your creative potential.
Key Features of the Select Black Gloves
Outstanding grip ensured by hand-crafted production method
Designed to reduce hand fatigue during extended use
Protects user against blood borne pathogens and ink
Matte black design helps to reduce eye strain during long use
Black finish masks blood and ink
Specially chlorinated so that sensitivity is increased
Available in four sizes that should suit most users
Protection for Artists
These Select Black gloves are black, single use examination gloves, designed and engineered for tattoo artists around the world. Inspired by the creativity, skill and diversity of tattoo artists, these gloves have been perfected over the last 25 years to maximise barrier protection, comfort, grip and dexterity allowing the artist to focus on creating beautiful tattoos.
Sizing of the GT003 Tattoo Artist Gloves
The Select Black Gloves are available in four sizes that should suit the hands of most users. Please use the diagram below as a guide to measuring your hand and selecting the right size glove:
| Size | Palm Width | Hand Length |
| --- | --- | --- |
| Small | 80mm (±10mm) | Minimum 240mm |
| Medium | 95mm (±10mm) | Minimum 240mm |
| Large | 110mm (±10mm) | Minimum 240mm |
| Extra Large | ≥110mm | Minimum 240mm |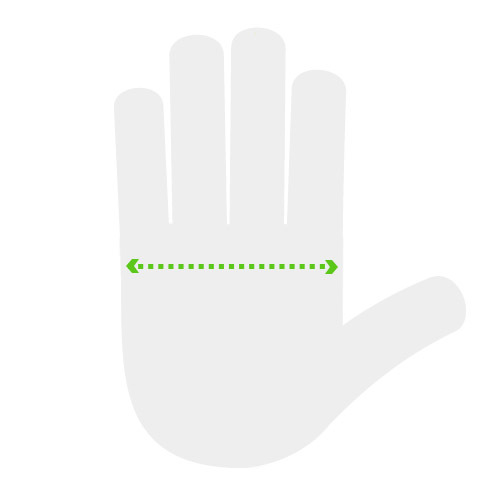 Resistance of the Select Black Nitrile Tattoo Artist Gloves
The Select Black Nitrile Gloves have been tested in accordance with EU standards to ensure high levels of performance. Please find the results below:
EN 374-3 (Suitable for use with a wide range of chemicals)
EN 420:2003 (General glove standards)
EN 455-4 (Certified non-sterile single use medical gloves)
EN 1186 (Suitable for use with food)
Uses of the Black Nitrile Tattoo Artists Gloves
With a matte black design with optimal grip and comfort, these gloves are ideal for tattoo artists. But they are extremely dexterous and versatile and are useful for a wide variety of tasks. They are suitable for use inside and outside, in dirty and clean conditions, and in dry, wet and oily environments. Some applications where these gloves are useful include:
Tattoo Artist
Piercing
Dentistry
Doctors
Hospital work
Care home
Nursery
Food manufacture
Food processing
Food use
Chemical use
Chemical manufacture
Better for Your Skin
Select Black gloves are manufactured using our unique Advanced Manufacturing Process, a proprietary process that make our gloves softer, easier to don, and more comfortable in use than standard gloves, while significantly reducing risks of allergies.
What Makes Unigloves Select Black Exceptional?
Unigloves' proprietary advanced manufacturing process ensures ease of donning, comfort in use and reduced risk of allergic reactions. Their Select Black nitrile gloves are washed for up to 3 times longer than regular examination gloves and chlorinated on both the inside and outside areas of the cuff to reduce tackiness and improve donning, making Select Black gloves the preferred choice for professionals seeking the ideal combination of comfort, dexterity and durability.
Wrist and Forearm Protection
Created from a synthetic nitrile these gloves are standard length with an extended cuff to help prevent liquids getting into the glove when working in wet conditions and provide additional protection from chemical splashes.
Documentation