Rudiger Demonstration Anatomical Skull Model
Able to dissect into 14 individual parts, the Rudiger Demonstration Anatomical Skull Model allows comprehensive analysis of each and every part of the human skull. Perfect for school classrooms or for patient demonstration in healthcare professions, this Rudiger model helps bring learning to life.
What's Included?
Who Can Use the Rudiger Demonstration Skull?
Cast directly from an expert-selected human skeleton, the Rudiger Demonstration Model offers an impressive level of detail to assist learning for students of all levels. Dissectible into 14 parts for individual inspection, this demonstration skull is ideal for the following applications:
Biology classes
Medical training
Personal studies
Patient education/demonstration
General education
Key Features and Benefits
Highly detailed human skull with 14 dissectible parts
Cast directly from a specially selected human skeleton
Removable cranial cavity, sagittal, temporal bone, mandible, maxillae and more
Indicates meningeal vessels, venous sinuses and carotid artery in colour
Manufactured using heard-wearing plastic for long-lasting use
Accurate Detailing
Modelled from a real human skeleton that was chosen by experts, the Rudiger Demonstration Model features an impressive level of detail as accurate as the real thing. This ensures precision when demonstrating to students or patients for the benefit of their physical health and academic knowledge.
Dissects into 14 Parts
Allowing for comprehensive demonstrations for each part of the skull, the Rudiger Model will dissect into fourteen parts for closer inspection. Removing each section of the skull reveals intricate details on the inside of the skull, such as vessels, sinuses, arteries, nasal cavities, internal ear, nerves and the roots of the teeth.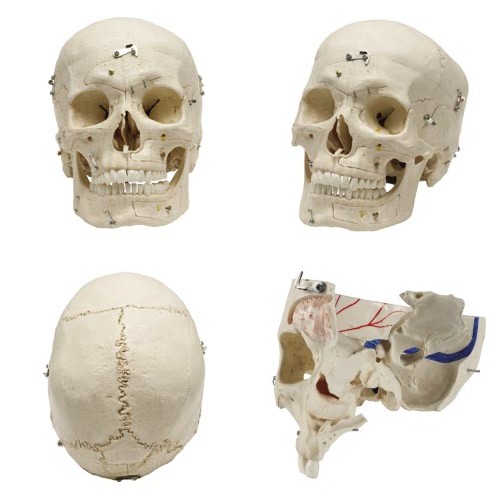 Built to Last
Manufactured using durable PVC plastic, the Rudiger Demonstration Skull is built to last. Immune to deterioration and unbreakable during normal use, the skull model is a smart investment that will continue to teach human anatomy for generations to come.
Technical Specifications
Dimensions (WxHxD): 24 x 14 x 17cm
Weight: 0.7kg