Unigloves SuperGrip Latex High Grip Gloves GM002
If you need gloves with exceptional grip then look no further, the Unigloves SuperGrip Latex High Grip Gloves GM002 feature textured palms and fingertips made from a high grade latex. These gloves act as a barrier to low risk chemicals, are suitable for use with food and the white colouring makes them ideal in industries where cross-contamination must be avoided.
Key Features of the SuperGrip Latex Gloves
Special textured fingers and palm ensure excellent grip
Touchscreen compatible, suitable for use with mobile and tablet displays
High grade latex material means these gloves are durable and tough
Can act as a barrier against chemicals, microorganisms and liquids
Chlorinated finish ensures a smooth and comfortable fit
AQL level 1.5
Low protein levels reduce skin irritation
White colour reduces risk of cross-contamination
Available in a variety of sizes
Industries and Applications for the SuperGrip Latex High Grip Gloves
These gloves would be applicable for any industry where secure grip in necessary, and as a result they are highly versatile. Some examples include, but are not limited to:
Dentistry
Medical
Janitorial
Health
Beauty
Doctors
Hospitals
Care homes,
Nurseries
Food manufacture
Food processing
Chemical Manufacture
Sizing of the Black Pearl Gloves
To provide as comfortable a fit as possible, the Unigloves Black Pearl Disposable Powder-Free Nitrile Gloves are available in a choice of sizes. Please measure horizontally across the palm for the required width. Each glove size has a minimum hand length of 240mm.
| Size | Palm Width (mm) |
| --- | --- |
| Small | 80mm (±10mm) |
| Medium | 95mm (±10mm) |
| Large | 110mm (±10mm) |
| Extra Large | ≥110mm |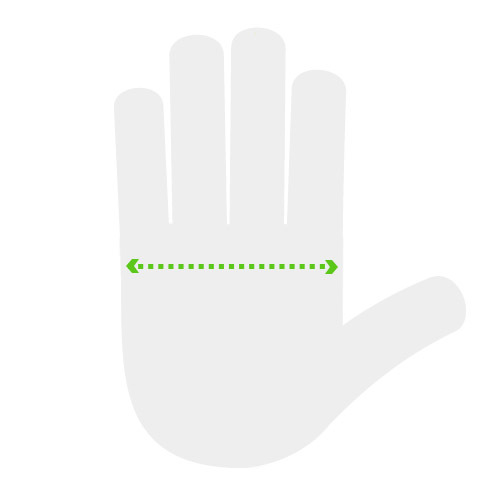 EN Resistances
EN 1186 (Suitable for use with food)
EN 374 1 – 3 (Suitable for use with a wide range of chemicals)
EN 455 1 – 4 (Certified non-sterile single use medical gloves)
Documentation