Unigloves Stronghold+ Nitrile Disposable Gloves GM007
The Unigloves Stronghold+ Nitrile Disposable Gloves GM007 have been expertly designed to protect from chemicals, viruses and other pathogens which makes them ideal for healthcare and other medical applications. Latex- and powder-free and made from a tough nitrile material, these gloves have great durability and can stand up to the most rigorous of tasks.
Key Features and Benefits
Constructed from a heavyweight nitrile which is tough and durable
Powder-free disposable gloves for chemical handling and food-based tasks
Provided in a box of 100 single-use ambidextrous gloves
Silicone-free and powder-free design for reduced contamination
Latex-free construction to reduce the risk of allergies or discomfort
Provided in a range of sizes from Small to Extra Large
Extended cuff with a total glove length of 300mm to prevent liquid entering the glove
Improved grip with textured palms and fingers for safer handling in oily or wet environments
Tested to EN 374, EN 455, and ASTM D6978-05 for reliable use
AQL: 0.65
Certified for Virus Protection
The Unigloves Disposable Gloves are PPE, fully certified to EN 374-5, meaning that you can use them as protection against viruses. This means that they are also suitable for use against bacteria and other pathogens, making them well suited to use in medical environments.
EN Ratings of the Unigloves Disposable Gloves GM007
The Stronghold+ Purple Nitrile Disposable Gloves have been tested in accordance with EU standards to ensure high levels of performance. Please find the results below:
EN 374 – 1: (Protection against chemicals)
EN 374 – 5: (Protection against viruses)
EN 455 – 1: (Determines the absence of holes)
EN 455 – 2: (Prevents contamination between patient and user)
EN 455 – 3: (Suitable for use with biological agents)
EN 455 – 4: (Indicate the deadline for the validity of the product)
Which Size Gloves Should I Choose?
The Unigloves Stronghold Gloves are supplied in four different sizes, meaning that you should be able to find the size that is suitable for you. To find the correct size, please measure the width of your palm, before matching to the table below.
| Size | Palm Width (mm) |
| --- | --- |
| Small | 80mm (±10mm) |
| Medium | 95mm (±10mm) |
| Large | 110mm (±10mm) |
| Extra Large | ≥110mm |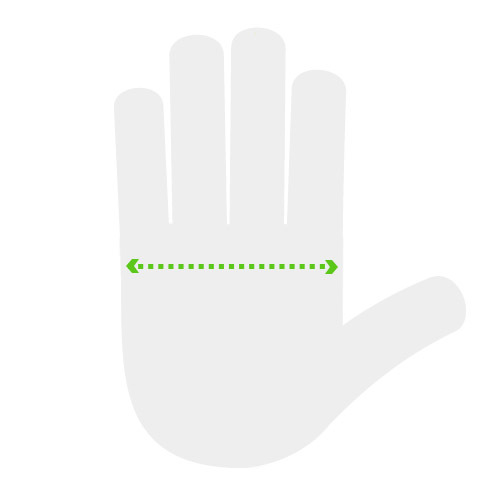 ​
Against Which Chemicals Do the Stronghold+ Gloves Protect?
The Uniglove Stronghold+ Disposable Nitrile Gloves have been tested to EN ISO 374-1 and EN ISO 374-5 (Virus). As indicated in the PDF below, they achieved the following results to provide adequate protection against the following chemicals:
Chemical Resistance Guide
Please note that level 6 is equivalent to 480 minutes breakthrough time, level 5 is equivalent to 240 minutes breakthrough time and level 2 is equivalent to a breakthrough time of 30 minutes.
Benzalkonium chloride: Level 6
Formaldehyde (37%): Level 6
Glutaraldehyde (50%): Level 6
Isopropanol: Level 2
Paraformaldehyde (50%): Level 6
Peracetic acid (5%): Level 5
Sodium hydroxide (40%): Level 6
Versenol 120 (Trisodium N-(hydroxyethyl)-ethylenediamine triacetate): Level 6
Documentation