Erler Zimmer Wound Moulage Large Scalding Wound
Realistic wound moulages can help improve the quality of medical training exercises. The Erler Zimmer Wound Moulage Large Scalding Wound is designed for exactly this purpose, and comes with its own sticky backing application to manikins or live models.
What's Included In My Purchase?
1 x Moulage
1 x Storage Box
Please note that additional skin glue and fake blood are sold separately.
What Injury Does This Erler Zimmer Moulage Replicate?
The Erler Zimmer Scalding Wound Moulage replicates an area of skin affected by a scald injury, which is a burn caused by very hot water or steam. When placed on a training doll or live model it can create the illusion of a real injury.
What Is the Benefit of a Realistic Moulage?
Hyper realistic first aid props allow trainees to properly practise their diagnostic and care skills. A simulation of a badly injured patient can also help them prepare for what they might witness in a real emergency situation.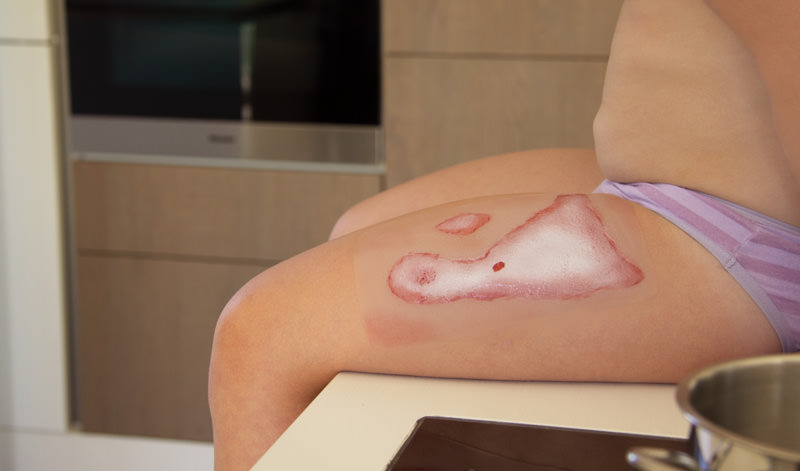 Key Benefits and Features
Highly realistic pre-painted moulage of scalded skin
Pre-painted and ready for immediate use
Self-adheres to both manikins and human skin (bottle of glue sold separately)
Thin design is compact and supplied in a storage box
Moulage is durable and easy to clean
Covered by a 3-year supplier warranty
Product made in Germany
How Do I Put This Moulage On?
Ready for immediate use and safe for application to human skin, this moulage can be fixed onto a model as soon as it is taken out of its box. If you want to stick the moulage on more securely for longer training sessions, additional skin-safe glue (available here) can also be applied.
Where Can I Purchase Accessories For This Moulage?
Artificial blood and skin glue can be purchased for use with this product, and can be viewed using the links below:
Erler Zimmer Artificial Blood for Wound Moulage Series (250ml)
Erler Zimmer Skin Glue for Wound Moulage Series
How Big Is This Moulage?
This fake wound moulage has an approximate size of 28.3 x 14.5 x 0.8cm which is a suitable size for cover large parts of the torso. For a slightly smaller scalding moulage, you may be interested in the Erler Zimmer Wound Moulage Scalding Wound.
Is This Moulage Easy To Transport?
This moulage is very lightweight and supplied in a compact box for easy storage. It only weighs about 0.1kg so can be carried between training sessions without trouble.
Who Are Erler Zimmer?
Erler Zimmer are a family run company that specialise in producing effective, high quality medical training equipment. They create their designs using real human data to ensure their products are as medically accurate and useful to trainees as possible.